Myotonic Goat Registry
3174 Valley Ford Road
Adger, AL 35006
Phone: 205-425-5954
Email: myotonicgoatregistry@yahoo.com
Office Hours: Monday-Friday
9:00 am to 4:00 pm Central Standard Time
Closed on all Federal Holidays

The Myotonic Goat Registry is here to serve breeders as an "open" registry for all goats of the traditional Myotonic breed found originally in Tennessee but now throughout the USA and Canada. We will register your Myotonic goat, according to our registration instructions and qualifications, regardless of whether it has been previously registered or not. We welcome unregistered herds that have goats of the traditional type, whether a single backyard pet or a full scale production herd. We ask that your goats be at least 50% Myotonic. Our goal is to secure the future of the traditional breed, and we will record any previous information from other registries as well as maintaining our own information. We are proud to have the flexibility to meet the needs of all Myotonic breeders that are interested in preserving this unique breed, whether hobbyists or production-minded breeders.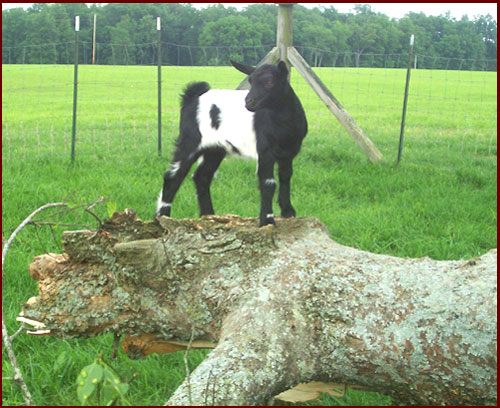 © Myotonic Goat Registry ©
The MGR Logo is a registered trademark of Myotonic Goat Registry and unauthorized use is strictly prohibited. The information contained in this site is for general guidance on matters of interest only. The information is provided with the understanding that the authors and publishers are not herein engaged in rendering veterinary or other professional advice. While the MGR has made every attempt to ensure that the information contained in this site has been obtained from reliable sources, MGR is not responsible for any errors or omissions, or for the results obtained from the use of this information. As such, it should not be used as a substitute for consultation with licensed veterinarians or other competent advisors. It is the sole responsibility of the reader to obtain veterinary services and advice before using any of the information in this site. Although MGR welcomes unsolicited articles and pictures, it does not assume responsibility for statements by advertisers and contributors. Pictures contributed via regular mail will be returned only if accompanied by a self-addressed envelope and return postage. All contributions become the sole property of the MGR.